Long lifetime of IWAKI solutions in polyethylene
IWAKI Nordic uses the PE100-RC material (Resistent to Crack) to a large extent for the complete Systems solutions. Eg. the very strong polyethylene sheets used for both IBC storage units, dosing and safety cabinets, are made in PE100-RC.
The general characteristics of the raw material PE-100 speaks for itself:
Food safe
Elastic / impact resistant
Excellent chemical resistance
Homogeneous material
No coating
No fibreglass
Easy cleaning due to the surface structure
Simple and inexpensive recycling etc.
A strong argument that IWAKI uses the PE100-RC material is that the material has an average lifetime of 10 times as long as the ordinary PE100.
A number of stress tests have been carried out amongst other by the german engineering company Hessel, where it turns out that the PE100-RC manages almost 30 times as long in a FNCT (Full-Notch Creep test) compared to the regular PE100.
At the same time, PE100-RC (Resistent to Crack) inhibits the development of minor cracks / damage to the material, which also has a direct impact on the lifetime.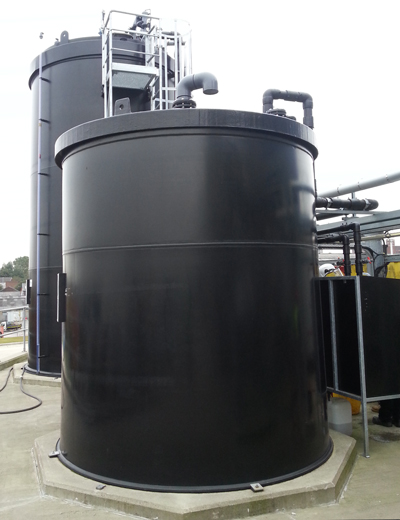 Long lifetime
Recyclable material
Value for money
When comparing the PE material with eg. fibreglass, which is often deposited by burial or burned at power plants, you can deliver the PE100-RC to the ordinary recycling site. PE is a recyclable material. Fibreglass, on the other hand, is not degraded by natural processes, and when deposited, it will remain unaffected for many years.
The PE100-RC material is also used by IWAKI Nordic's partner Weber Kunststofftechnik GmbH manufacturer of small-to-large chemical tanks. These solutions are used among other things within the chemical industry, surface treatment, water treatment etc.